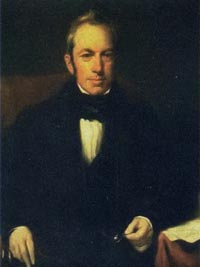 Born: Dec 21, 1773 in Montrose, Scotland
Died: Jun 10, 1858 (at age 84) in London, England
Nationality: Scottish
Famous For: Brownian motion
Robert Brown was a botanist from Scotland who was a pioneer in microscopy. He was among the first botanists to describe the nucleus of cells while he also discovered Brownian motion. He was also highly influential in paleobotany, the study of prehistoric plant life. Brown traveled extensively in Australia with navigator Matthew Flinders, making many discoveries about Australian plants.
Brown's Early Years
Brown was the son of a church minister and attended school in Montrose before going on to further study at Marischal College and then Edinburgh University. Although he did not obtain a degree, he demonstrated a keen eye for natural history. After dropping out of school in 1794, he enrolled in the army as a surgeon's mate in a Fifeshire regiment. This took him to Northern Ireland where he spent his spare time engaged in scientific research.
In 1798, while in London on army business, he was accepted by the Linnean Society as an associate. By this time, Brown was unhappy with his military career. He applied to join Flinders' expedition to Australia and in 1800 was offered a place. Sir Joseph Banks applied pressure on the Dublin Lord Lieutenant to release him from his army service, and a deal was eventually reached whereby he would remain a commissioned man with an Admiralty salary to support his mother.
Travels and Discoveries
Brown prepared for the expedition by studying Australian plants which Banks had collected. Once in Australia, he collected widely, although many of his specimens were lost when one of the expedition's ships was wrecked in 1803. The following summer, he spent several months in New Zealand, although most of the plants he collected turned out to have been described by others already. He made some more collections around Sydney, but was hampered by the unfriendly nature of the local indigenous inhabitants.
In 1805, Brown returned to England, spending much of the journey trying to keep his thousands of specimens free of the damp atmosphere which constantly threatened them. He was frustrated when in 1810, the publication of a monograph on his discoveries was pre-empted by Richard Salisbury. Nevertheless, in the same year he produced his main work on the flora of Australia with a supplement appearing a full 20 years later. The book remains impressive for its scientific rigor and the quality of its writing.
Brown's Later Years
During the 1810s, Brown worked as the Linnean Society's librarian, also acting as its clerk and housekeeper. He left the role in the early 1820s, after Banks had died. Banks left Brown £200 a year as an annuity and a leased house in London.
Brown managed to thrash out an agreement with the British Museum's trustees in 1827, whereby Banks' extensive collections would be held at the museum but under Brown's own supervision. They would also be kept in a new department dedicated entirely to their conservation.
Despite being offered substantial positions at both Glasgow and Edinburgh Universities, Brown declined to move away from London, feeling that he owed it to Banks' legacy to remain. He was also uninterested in medical teaching work, which would have been required had he taken on the Scottish roles.
In 1828, he was made vice president of the Linnean Society and remained in that post for most of the rest of his life, apart from a short period between 1849 and 1853 when he served as president.