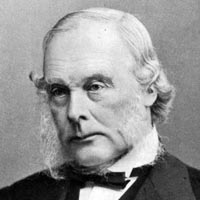 Born: Apr 5, 1827 in Upton, Essex
Died: Feb 10, 1912 (at age 84) in Walmer, Kent
Nationality: United Kingdom
Famous For: Surgical sterile techniques
Awards: Copley Medal
Books:
Two Lives During the English Civil War
Joseph Lister is most known for his surgical sterile technique. He was highly praised for his findings and was called Sir Joseph Lister, First Baronet Lister, from 1883 to 1897. Lister was the one responsible for introducing carbolic acid, which is now referred to as phenol, to surgical procedures. He used this to clean and sterilize wounds after he observed that many patients who needed an amputation would later die of sepsis. In the span of just four years, he reduced the mortality rate by 15% in his ward.
Early Life
Joseph was the son of J.J. Lister who was the inventor of achromatic object lenses which were used in compound microscopes. He lived a comfortable life in a Quaker home located in Upton, Essex. He became a fluent reader of the French and German languages. These were the most used language of medical text during that time. He entered the University College London and initially studied botany. Later, he registered as a medical student and graduated with honors. After this, he entered an institution called the Royal College of Surgeons when he was 26 years old.
Work with Antiseptics
In 1867, Lister started using carbolic acid as an antiseptic during surgery. It quickly became a widely used substance for sterilization in the medical field. He first considered this substance to be used for sterilizing since it was already being used to remove the stench from the fields where sewage water would pass.
Before Lister's discovery, many people believed that infections were developed due to chemical damage from the air. Wards would usually be aired out during the day. There were no facilities for washing out patient wounds or sterilizing medical equipment before surgery. Doctors and surgeons were not even required to clean their hands.
Surgical Technique
Lister ordered those working under him to put on clean gloves and have their hands washed with 5% carbolic acid before entering the operation room. All the instruments used in the operating theater were also sprayed with the same solution. He found that when carbolic acid was rubbed on wounds, it would reduce the patient's chances of developing gangrene.
He also suggested that porous natural materials are not the best for handling surgical instruments as these bring a higher risk of infection. Along with these discoveries, Lister also developed a new way to repair broken kneecaps with the use of wires. He also improved the method of performing mastectomies during his career.
Lister's Legacy
Lister was the president of the Royal Society for five years from 1895 and 1900. After his death, a memorial fund known as the Lister Medal was created to honor outstanding surgeons. This is the most prestigious award a surgeon could receive and it was awarded by the Royal College of Surgeons of England for the recognition of any contribution to surgical science.
Lister's wife passed away in 1892. After this, he reportedly went into a stage of religious melancholy where studying and writing lost appeal to him. He died ten years later in 1912 while at his country home in Kent.