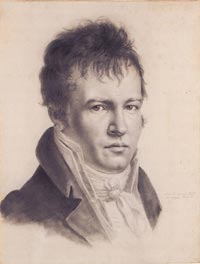 Born: Sep 14, 1769 in Berlin
Died: May 6, 1859 (at age 89) in Berlin
Nationality: Prussia
Famous For: Biogeography, Kosmos (1845)
Alexander von Humboldt was a Prussian explorer, geographer, and naturalist. His vast work and research on botanical geography created the groundwork for the biogeography field and he is considered the founding father of modern geography. His older brother, Wilhelm von Humboldt, was a Prussian minister, linguist and philosopher.
Humboldt's Early Life
Humboldt was born in Berlin, Germany, in 1769. His father had been an officer in the army and died when Humboldt was a child. Tutors provided him with most of his early education, which was mostly mathematics and languages. When he was older, he went to the University of Frankfurt to study finance for six months. In April of 1789, he enrolled at Göttingen. Later, he undertook studies at the Freiberg Academy of Mines and was a student of A.G. Werner, a famous geologist.
Humboldt's mother died when he was 27 and she left him a considerable income from her estate. One year later, he departed for government service and traveled to South America with botanist Aime Bonpland. They went to Spain to obtain special permission and passports from the king so they could explore the continent.
Exploring South America
Once Humboldt and Bonpland arrived in South America, they studied the continent's fauna, flora, and topography. In 1800, Humboldt had mapped over 1700 miles of South America's Orinco River. Next, the pair took a journey to the Andes and they also climbed part of Mt. Chimborazo in Ecuador.
On the West Coast, Humboldt discovered and measured the Peruvian Current, which is now referred to as the Humboldt Current. They explored many areas in Mexico in 1803. Next, they went to the United States and visited with Thomas Jefferson, after which the two became very good friends.
Humboldt's Life in France
In 1804, he sailed to Paris where he wrote 30 large volumes about his trip to the Americas. Humboldt recorded and documented the magnetic declination during his expeditions. He remained in France for 23 years and during this time, he frequently met with several other intellectuals.
Later Years in Berlin
Humboldt returned to Berlin in 1827 after his fortune was exhausted due to his many trips and reports that he self-published his works. Humboldt became an adviser to the King of Prussia to acquire a steady income. During his time in this city, he gave many public lectures. Later, he went to Russia to explore and there he discovered permafrost. He also made the very first isotherm map which contained equal average temperature lines.
He published his first volume of Kosmos in 1845. Kosmos was well-received and it quickly sold out. Other volumes were published and they focused on astronomy along with other topics that included human and earth interactions. In 1862, the last volume was published after Humboldt's death.
Death
In February of 1857, Humboldt experienced a minor stroke which he recovered from without any noticeable symptoms. During the winter months of 1858-1859, his strength declined and he died in Berlin on May 6, 1859.
Charles Darwin considered him to be the greatest scientific traveler, second to none. Alexander von Humboldt transformed 19th century western geography with his scientific travels, knowledge, and experiments.