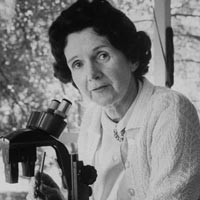 Born: May 27,1907 in Springdale, Pennsylvania, U.S.
Died: Apr 14,1964 (at age 56) in Silver Spring, Maryland, U.S.
Nationality: American
Rachel Luis Carson was an American marine biologist, writer, and conservationist whose writings, such as Silent Spring, are credited with advancing the global environmental movement.
Early Life and Education
Rachel was born on May 27, 1907, on a small family farm just next to Springdale, Pennsylvania, near the Allegheny River.
At the age of eight, she began writing stories. Her first story was published at the age of eleven. Her first stories were published in St. Nicholas Magazine; she enjoyed reading this magazine and other novels. Carson attended Springdale's small school all the way until 10th grade. She then completed her high school education in Parnassus, Pennsylvania, where she graduated in 1925 at the top of her class of 45 students.
At Pennsylvania College for Women (now Chatham University), Carson studied English before she switched to biology. Though admitted to graduate standing at John Hopkins University, Rachel remained at Pennsylvania College for Women for her senior year due to financial challenges. She later graduated in 1929. After a summer course at Marine Biological Lab, she continued to study zoology and genetics at John Hopkins. She earned her Master's degree in zoology in 1932.
Career and Publications
In 1936, Rachel was hired by the Bureau of Fisheries as a junior aquatic biologist. Her main responsibilities were to analyze and then report field data on fish populations. She also wrote brochures and other literature for the public. From her research and consultations, she also wrote articles for The Baltimore Sun and other newspapers.
Carson rose within the Fish and Wildlife Service and she supervised the small writing staff. In 1949, she became the chief editor of publications. She wrote pamphlets on the conservation of natural resources and edited other scientific articles. However, during her free time, she turned her government research into lyric prose.
In 1952, she published her award-winning study of the ocean, The Sea around Us. Later, she published The Edge of the Sea in 1955. The two books were biographies of the ocean and they made Carson a famous naturalist and science writer. In 1952, she resigned from her job to devote herself to writing.
She wrote several other articles meant to teach people about the beauty ad wonders of the living world. In 1956 she published Help Your Child Wonder and Our Ever-Changing Shore in 1957.
Work against Pesticides
After World War II, Carson felt disturbed by the reckless use of synthetic chemical pesticides. She reluctantly shifted her focus in order to warn people about the severe long-term effects of misusing pesticides. In her 1962 book Silent Spring, she challenged the activities and practices of agricultural scientists and the government. She called for a change in the way the public viewed the natural world.
Breast Cancer and Death
Breast cancer and her treatment regimen made Carson very weak. In January of 1964, she became ill with a respiratory virus. Her condition became worse and in February of the same year, doctors discovered that she had severe anemia from the radiation treatments. By March, her cancer had reached her liver. Rachel Carson later died of heart attack on April 14, 1964, in her home in Silver Spring, Maryland.